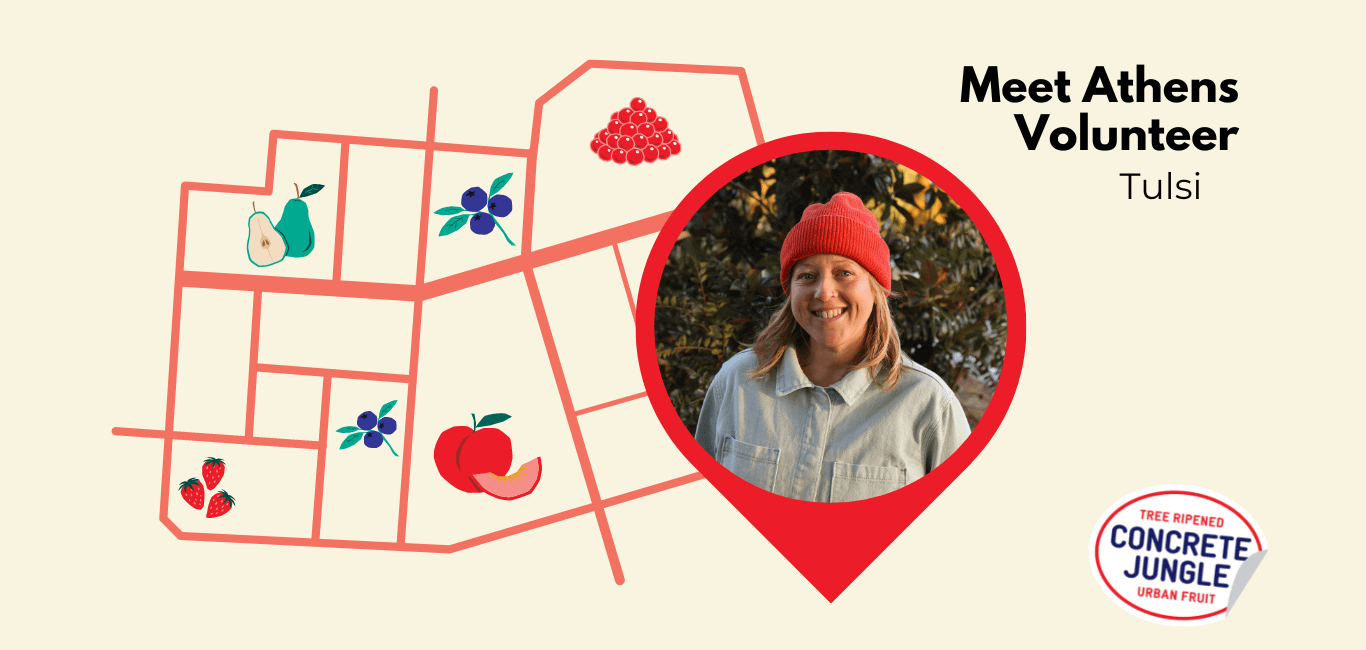 Meet Tulsi TenEyck, one of Concrete Jungle Athens' dedicated volunteers. Tulsi is passionate about the Athens community, as this town has been her home for 15 years. She loves to learn about plants in the area and to create a greater sense of community and connection with her surroundings.
Tulsi first found Concrete Jungle through CJ's Edible Landscape Walk in May 2022 that highlighted fruit trees on the University of Georgia campus. As she explains, "We got to meet all kinds of fruit and nut trees. And it just rocked my world. It opened up my eyes to some information that I've been really yearning for and looking for – to learn what is growing around us. And I was just like, 'oh my gosh, these are my people. This is how I'd like to spend my time.' So it was after that campus walk, I was hooked."
Since then, Tulsi volunteers with Concrete Jungle any chance she has, attending almost every in-town and adventure pick. 
Tulsi says, "I think my personality aligns a lot with CJ activities because I love being outdoors. I love forging fruit. I love swimming holes. I love sunsets, and Concrete Jungle kind of encapsulates all of those things."
About Concrete Jungle, Tulsi says, "It's been incredible to learn about my land and to connect to the land with people on a weekly basis with CJ. It's honestly been life changing. It's a practice in the community and an organization that I hold really really dear." 
---
Concrete Jungle's volunteers couldn't do all of this amazing work without the aid of our fruit tree map! This map is an inventory of 4,200+ fruit trees in Atlanta and Athens. It's a tool that our staff rely on in their daily work, but the map needs a little TLC.
So this year for #GivingTuesday, we're raising funds to make much-needed upgrades to our map software, so that we can continue getting the freshest produce to families in need. You can help us preserve this important public resource and map the way to a fruitier future! Learn more and make a donation at donorbox.org/mapthefruit